The Graduation and Degree Award Ceremony for the class of 2020 was held at Jiangxi University of Finance and Economics, located in Nanchang, Jiangxi Province, China.
On the 29th of June 2020, this grand ceremony was held in the university's school auditorium. The graduation ceremony kicked off with the rendition of the national anthem and was divided into three parts, Don't Say Goodbye, Glory Years, and Heart to the Far.
The Party Secretary, Prof. Wang Qiao, the President, Prof. Lu Fucai, Vice President, Prof. Liu Xiaoli, School Disciplinary Committee Secretary, Prof. Yang Jianlin, Vice Presidents: Professor Deng Hui, Professor Que Shandong, Professor Yuan Xiong, Professor Yuan Honglin, Professor Li Chungen and other dignitaries from the university attended the graduation ceremony.
President Lu Fucai gave a speech titled Illuminating the Future with the Light of Civilization at the ceremony. In his speech, he hoped that students would rejuvenate the soul of civilization, diligently cultivate noble ethics, always combine good moral cognition and development with positive ethical practice while continuing the pursuit for positive morality. He further expressed that students should establish lofty ideals, bravely pursue and always adhere to them. He encouraged students to take the hand of civilization and assume the responsibility of the times.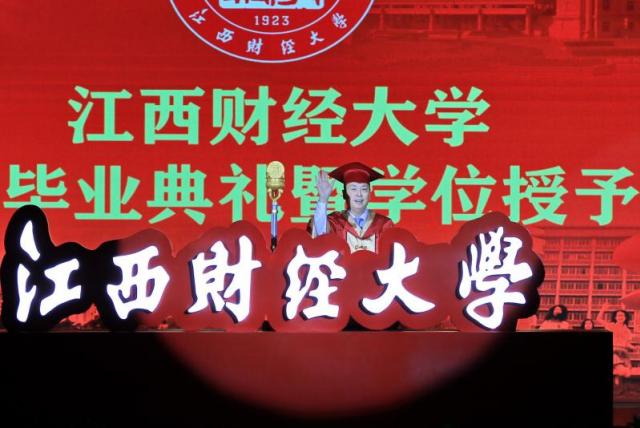 Wang Qiao displayed a scepter symbolizing the academic authority of Jiangxi University of Finance and Economics and lit up the platform to signify the start of a new journey for the graduates.
Wang Qiao, Lu Fucai, Liu Xiaoli, Yang Jianlin, Deng Hui, Que Shandong, Yuan Xiong, Yuan Honglin, and Li Chungen presented the doctoral degree certificates, master degree certificates, undergraduate degree certificates, outstanding international graduate award certificates, international student's solidarity and friendship award certificates, top ten graduation thesis awards, and the alumni cards respectively.
The Deans of various colleges, party committee secretaries (general Party branch), Leaders of some school-owned units, doctoral tutors, master's tutors, bachelor's tutors, party cadres, counselors, teaching school representatives and friends also attended the ceremony.
​

The graduation ceremony successfully came to an end with the congregation of teachers, staffs and students alike chorusing the school song. However, due to the impact of the epidemic situation, the proceedings of the graduation ceremony was limited to an extent but was shared through a live broadcast via the official website for the bigger audience.
Mohammad Saiyedul Islam /JUFE/OES