The Jiangxi Provincial Government Scholarship 2020 Review Meeting for Foreign Students of Jiangxi University of Finance and Economics successfully held on Wednesday. A total of 40 international students enrolled in the review meeting.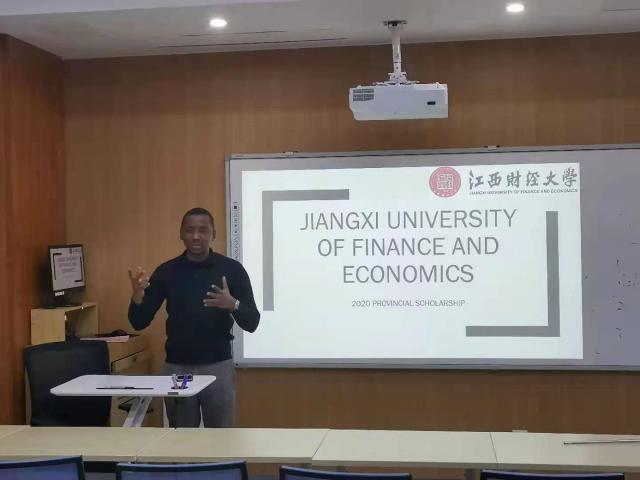 On the afternoon of December 16, the overseas education college organized and invited faculty representatives from the Academic Affairs Office, the Graduate School, the School of Finance and Taxation, the School of Accounting, the School of International Trade and Economics, the School of Economics, and the School of Information to participate in the evaluation.
The scholarship evaluation is divided into comprehensive assessments on academic performance, paper publication, awards, class attendance, participation and contribution to school work, Chinese level, and speech contest. As an important part of the comprehensive assessment of scholarship review, international students will give presentations on their studies and life at Jiangxi University of Finance and Economics, and explain the advantages of this scholarship to the judges.
The Jiangxi Provincial Government Scholarship for Foreign Students is funded and established by the Jiangxi Provincial People's Government. The Provincial Education Department and the Department of Finance are responsible for management and supervision. It aims to implement China's policies for studying in China and attract foreign students who are friendly to China with outstanding academic performance and good moral character.
JUFE encourages International students to study hard at the university and actively participate in various activities to create a good learning and living environment to promote comprehensively improve the overall quality of students.
MOHAMMAD SAIYEDUL ISLAM/JUFE/OES