In order to promote Sino-Foreign cultural exchanges, the Overseas Education School organized a Poetry Recitations event for Chinese and Foreign Students on April 18 afternoon.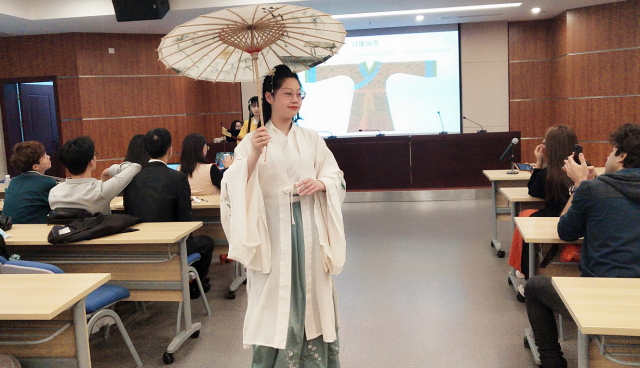 In the Poetry Recitations program, the overseas students Hu Lin, Michal, Carmen, Rena, and Miguel brought the song Farewell to Cambridge to the audience. Wang Xiaoyi a student of the School of Economics brought a guzheng song Dream of Red Mansions. Guzheng is the article of the benevolent and is considered to be one of the most traditional oriental musical instruments enjoying the reputation of Oriental Piano. The students of the School of Humanities also brought their original poems to the audience.
Poetry recitation for Chinese and Foreign Students not only showcased the national culture but also adopted the form of pleasant and easy-to-see, relaxing, and enjoyable. The traditional cultural knowledge of the students is also very important to improve the enthusiasm of Chinese and foreign students to learn the traditional culture.
Through the recitation of Chinese poems, students at home and abroad are led to understand Chinese culture, review classic works, draw nourishment from the wisdom and feelings of the ancients, and cultivate their hearts. At the same time enhance the student's pair Hua honor poetry culture, and let the student's perception of a deeper beauty of Chinese and Chinese culture has a long history of promoting Sino-foreign cultural exchanges.
MOHAMMAD SAIYEDUL ISLAM/JUFE/OES