Recently, the Global Essay selection of "Jiangxi is a good place" jointly held by the Jiangxi Culture and Tourism research and promotion Association and Jiangxi Daily was announced. Emmanuel Tonguino, a Guinean international student at our university won the second prize for his essay titled "My Jiangxi Dream". Representing international students, he shared his essay as the main theme at the awards ceremony.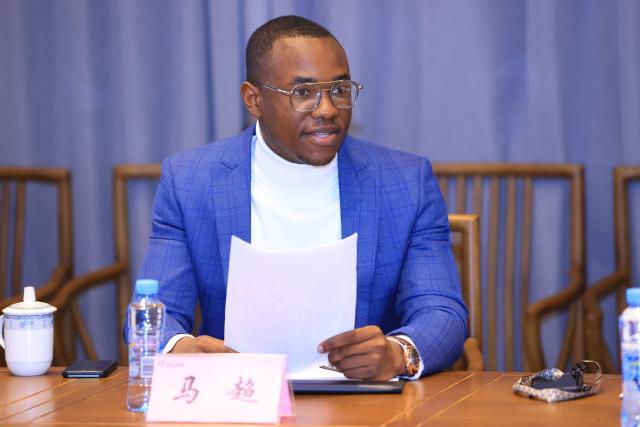 At the awards ceremony, Zhu Hong, president of Jiangxi Culture and Tourism Promotion Association, and Huang Wanlin, president of Jiangxi Daily, praised Emmanual's fluent Chinese and encouraged him to study hard, tell more Chinese stories, and Jiangxi stories to the world, and promote Jiangxi's beautiful business outlook to more foreign friends.

"My Jiangxi Dream" is a personal experience of Emmanuel from the perspective of international students and his own experience of studying in China, in Jiangxi province. It tells how he learned Chinese under the guidance of his teachers after coming to China, and how he realized his great effort whilst on stage at the Jiangxi Provincial Chinese Competition. He bloomed and won the first prize in the competition, and as a foreign student, he personally felt the great achievements of the 40 years of New China's reform and opening up.
The Overseas Education School has always attached importance to the education of international students on China's national conditions, establishing a correct understanding of international students' social and historical development, improving international students' cross-cultural identity and international vision, cultivating outstanding international students who fully understand China, and contributing to the construction of a community with a shared future for mankind.
Pictures and Text by/OES Wang Qi, Editor/Liu Zhuming, Review/Jiang Ying, Zhao Min, Li Dahui
[Extended reading]
"Jiangxi is a Good Place" Global Essay competition aims to fully display the beauty of nature and humanities in Jiangxi in the form of literature, tell wonderful stories about Jiangxi, spread the most beautiful voices of Jiangxi, show the good image of Jiangxi, and explore the beautiful relationship between foreign friends and Jiangxi. In this competition, more than 2,200 works from all over the world have been received. After expert evaluation, 50 winning works were selected, including 3 first prizes, 7 second prizes, 20 third prizes, and 20 excellent awards.
​