​
From November 4 to 5, the "Perceiving China" activity, sponsored by the National Scholarship Fund and organized by Jiangxi University of Finance and Economics, was successfully carried out. The theme of this activity was "Perceiving China - an in-depth exploration of the development of Jiangxi's traditional Chinese medicine, culture, tourism, and health care industry", which attracted students from Zimbabwe, Nigeria, Ghana, Lesotho, and many other countries. 24 international students, originally from 11 countries including Morocco (18 of which are students awarded the Chinese Government Scholarship) jointly explored the combination of traditional Chinese medicine culture and modern science and technology.
During the two-day period, the overseas students visited six local well-known pharmaceutical enterprises and pharmaceutical planting bases, including the Renhe Group, the Jiangxi Jinhu Insurance Equipment Group Co., Ltd., the Deshang Pharmaceutical Co., Ltd., the Renxiang Pharmaceutical Co., Ltd., the Jiangxi Naftang Pharmaceutical Co., Ltd., and the Jiangzhike Planting Base. They also visited the Museum of Traditional Chinese Medicine in Qihuang Town, Zhangshu City. Through going into enterprise workshops, distribution plants, product testing centers, planting bases, etc., students received a close understanding of the development history, development status, product sales, logistics distribution, medicinal plant planting, domestic and foreign market operations, and other basic conditions of these enterprises. Also, by visiting the Museum of Traditional Chinese Medicine, students closely experienced the unique technology of Chinese medicine processing, and personally experienced the development and inheritance of Chinese medicine and the unique integration of traditional medicine and artificial intelligence.
During the sharing and exchange session, Melisa from Equatorial Guinea said, "I didn't expect to see many plants and medicinal materials in the Chinese Medicine Museum that can also be found in my home country. In China, they can extract beneficial substances for the human body through advanced technology, and make the formula into health care products and traditional Chinese medicine for people to use, and this really opened my eyes." Tayo, from Nigeria, said that before coming to Zhangshu City, he had always believed that traditional Chinese medicine was still the same as what he saw on TV and needed to be boiled in a jar. However, when he came here, he found that the production, extraction, and consumption of traditional Chinese medicine had been following the development of Chinese society. There was everything from pills to granules, from oral medicine to external medicine, which fully met the different needs of different groups for use, People have to admire the great wisdom of the Chinese people he said.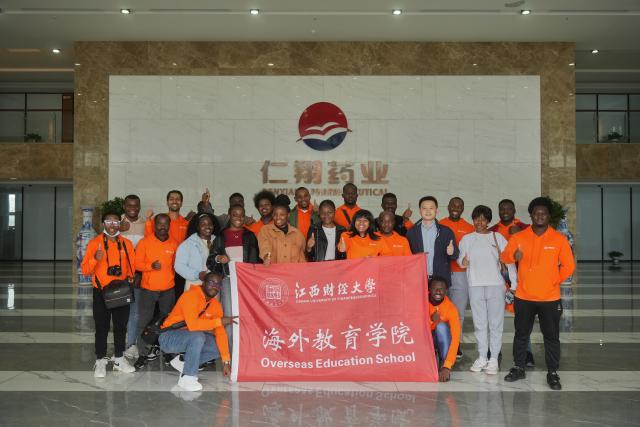 Through lectures, visits to local enterprises, museums, exchange and sharing sessions, and other activities, the "Perceiving China" activity made the overseas students deeply feel the integrity and innovation of "Made in China" and the spirit and connotation of Chinese traditional medicine culture, and deeply understand the positive contributions made by a wide range of Chinese medicine people in the development and evolution of traditional Chinese medicine, They are more aware of the important role played by traditional Chinese medicine in combating the COVID-19 epidemic, and have also strengthened their determination to further promote friendly exchanges between China and their countries with the belief of jointly building a community with a shared future for mankind.
(Article/Wang Qi of the OES. Review/Jiang Ying, Zhao Min, Li Dahui)