​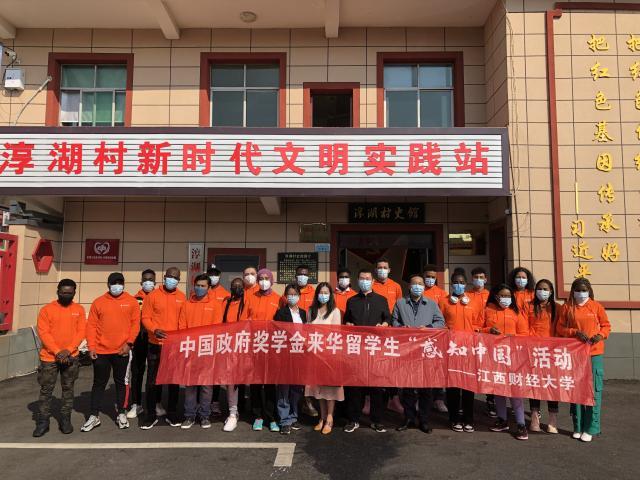 On November 10, the Jiangxi University of Finance & Economics organized for international students to carry out an activity of Perceiving China with a theme, "Experiencing the achievements of new rural construction · Jiangxi sample" held by the NSFC, which attracted more than 30 overseas students from 13 countries, including Russia, Ghana, Madagascar, Morocco, and Guinea. The activity was led by Wan Yina, Vice Dean of the Overseas Education School.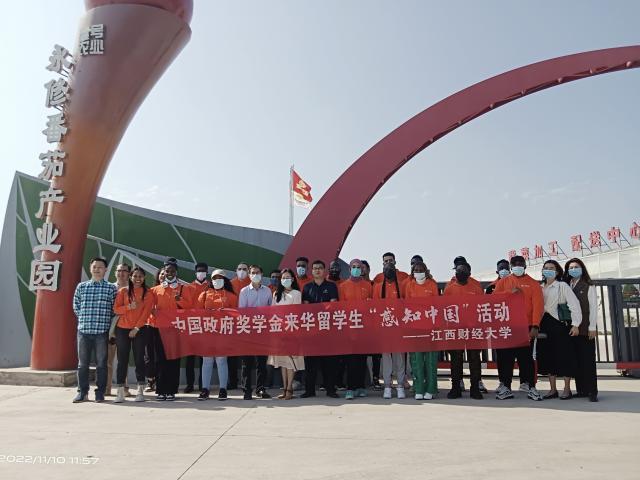 International students and their delegation successively visited local characteristic enterprises and agricultural product planting centers such as Chunhu Village New Era Civilization Practice Station in Jiuhe Township, Chunhu Village Party and Mass Service Center, Jiuhe Township No. 1 Agricultural (Yongxiu) Tomato Industrial Park and Aicheng Town Guaidi Biotechnology Co., Ltd. By visiting local communities, enterprises, and industrial parks, international students have an all-round understanding of the construction of the new countryside in Jiangxi and experience the achievements of new rural construction. The visit made international students more intuitive and clearly understand the actual results of China's rural revitalization work in different places, effectively understand the Chinese government's 20-character rural revitalization strategy implementation policy of industry prosperity, ecological livability, rural civilization, effective governance, and affluence, and learn how the local government revitalizes resources, lead the local people to grow fruits and vegetables and develop characteristic tourism and trade industries.
When visiting the Party Mass Service Center in Chunhu Village, when the students saw the slogan "Never closed, 365 days service" written on the wall of the service center, they said "Impossible!" with one voice. After receiving a positive reply, they praised the determination and attitude of the local government to do practical things for the people. In order to further understand the business of the center, Imane, an international student from Morocco, boldly stepped forward to greet the staff and understand the basic functions of the center. After coming out of the center, she said with a look of amazement that the villagers living here were so happy that she had no idea that in such a remote village, whenever there was government staff to help villagers solve their practical difficulties in life, it was a perfect reflection of the Chinese Government's people-oriented policy idea. When visiting Jiuhe Township No.1 Agricultural (Yongxiu) Tomato Industrial Park, Mikhail from Russia said, "I can't believe that there is such a high standard, high-tech, and high-yield constant temperature planting base in such a small place. Russia needs such a constant temperature greenhouse very much. The vegetables and fruits planted here not only have a greatly shortened ripening cycle but also no pest problems and pesticides used on them. They are healthy and good, which makes these agriculture methods enviable."
When visiting the Wormwood Museum owned by Gu Aidi Biotechnology Co., Ltd., international students lamented the profound theory of Traditional Chinese Medicine (TCM) and the magical effect of wormwood, the king of all herbs. International students from Zimbabwe said that there were also Chinese medicine clinics in Zimbabwe, but the supply of Chinese medicine services was in short supply. They hope there will be more TCM clinics in Zimbabwe to improve people's health through TCM health care and treatment.
By organizing this Perceiving China activity, we have effectively created a linkage between theoretical learning in the classroom, and practical learning outside the classroom for international students, so that they can go out of the classroom to witness how the local government often mentioned in the classroom supports these local enterprises in technology and capital, and how to lead the masses to break the bottleneck of development, achieve income generation and wealth, and create a business card for the rural revitalization of Jiangxi, so as to personally experience the implementation of China's rural revitalization strategy.
Photos/Wang Qi, OES Editor/Zeng Yaokun, Reviewer/Jiang Ying, Zhao Min, Li Dahui.