江西财经大学留学生:
疫情中的中国强大而温暖
International Students from Jiangxi University of Finance and Economics:
China is Strong and Warm in the Epidemic
2020年2月20日,中国主流媒体《中国日报》(China Daily)的教育栏目"留学中国"(Study in China)的Facebook官方账户上相继发布了江西财经大学在华留学生Ibnali Issah Kulo和David Geofrey的来信内容。
The official Facebook page of Study in China, one of the educational channels of China Daily has recently published letters of two students Ibnali Issah Kulo and David Geofrey from Jiangxi University of Finance and Economics on February 20, 2020.
"留学中国"Facebook官方账户上推送了我校加纳籍公共管理专业在读硕士Ibnali Issah Kulo疫情期间在华的生活状态和感想。
In his letter, Ghanian Ibnali Issah Kulo who is pursuing a Master's degree in Public Administration expressed his feeling towards China and the status of his living condition during the outbreak.
他在文章中写道,他的母校江西财经大学在疫情期间采取了一系列手段,来确保每一位留学生的安全。
He further stated that JUFE has taken numerous measures during the epidemic to ensure the safety of every international student.
海外教育学院工作人员每日要求学生填写疫情报告,不辞辛劳地照顾学生,为每一位留学生提供必要的医疗物资如口罩、洗手液、消毒酒精等,并定期配送食物,保障他们在基本生活、防控疫情等方面的需求。
Overseas Education School required students to fill in the daily online epidemic report that provides information on their health status. OES further provided basic need to students such as food, surgical masks, hand sanitizers and disinfectant alcohol to enhance their safety and wellbeing.
正是因为学校和学院的关心和支持,老师和志愿者的热心帮助,他才发自内心地写了这篇文章。
Ibnali's article was as a result of the courtesy and the support he received from the school, the volunteers, and his expressions are deeply from the bottom of his heart.
他说:"感谢这段时间老师们为保护我们所做的付出,我明白了什么叫患难见真情,我们所有留学生已经把江财当作了第二个家,把中国当成第二故乡。在这场战疫中,我们在身体上、心理上、精神上支持中国,我相信中国必将战胜病毒,更加繁荣昌盛,最终实现梦想。"
He said:I am thankful for these same protocols because I am aware that it is due to love by our teachers just to protect us against the coronavirus. At this crucial moment all international students will agree with me that China is our second home. We stand with China physically, psycholotically and spiritually to against this virus and I know China will survivie it and grow from strength to strength and achieve their dreams."
2月20日同日,另一位坦桑尼亚籍国际商务专业在读硕士生David Geofrey的题为《我在江西财经大学亲历中国抗击疫情的生活》文章内容也被推送至Study in China的Facebook官方平台。
On the same day February 20, 2020, Study in China Facebook page also published David Geoffrey's article titled "My life at Jiangxi University of Finance and Economics(JUFE) during the epidemic".
他赞扬了中国政府面对此次疫情决策迅速,中国人民上下一心团结一致,表现出对世界的担当和贡献。
He praised the Chinese government for its quick response during the outbreak, and the unity portrayed by the Chinese people in the fight to end the pandemic.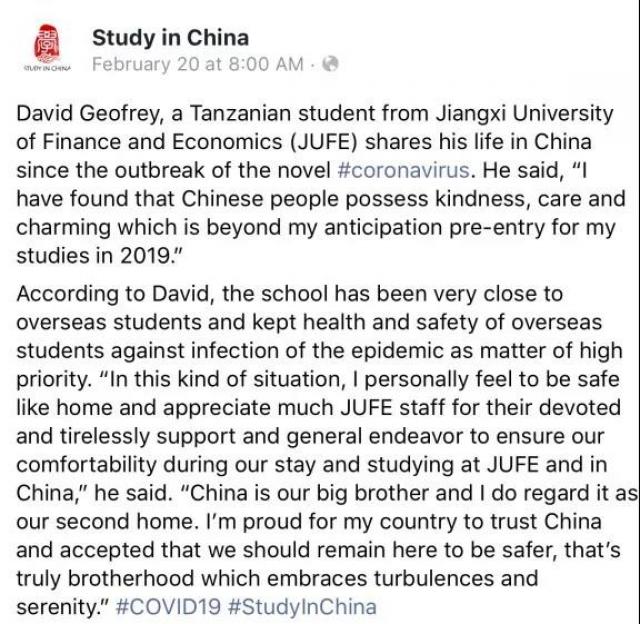 "中国政府在对抗新型冠状病毒传播方面所做的非凡努力是惊人的。中国果断封锁武汉城市,同时武汉在极短的时间内建起了一家紧急医院为受感染者提供治疗,让我非常震惊。政府出台强制性的安全法规要求人们在户外时戴上口罩,关闭了一些公共基础设施,以防止和控制冠状病毒的传播。通过政府的慎重行动,我希望大流行(疫情)将很快被消除。"
An extraordinary effort on the part of the government against the spread of the Corona Virus has been amazing.

I was surprised by China's decisive blockade of the city and the timely construction of an emergency hospital in Wuhan to provide treatment for infected people. Mandatory safety laws for people to wear masks when outdoors, shutdown of some public infrastructures all in a bid to prevent and control the spread of the Corona virus. Through the deliberate actions of the government, I hope that the pandemic will be eliminated soon."Said David.
在最后表达了对中国的热爱和对母校江西财经大学的感谢:"我在江财感觉到安心和温暖,感谢母校的老师们的无私奉献和不懈努力。中国是坦桑尼亚的友好国家,而现在中国已经成为了我的第二个家,我为我的祖国相信中国会保护我的安全而自豪。真正的兄弟情谊是可以同甘共苦。"
In the end, David expressed his love for China and his gratitude towards his Alma mater jiangxi university of finance and economics, In this kind of situation, I personally feel to be safe like home and appreciate much JUFE staffs for their devoted and tirelessly support and general endeavor to ensure out comfortability during our stay and studying at JUFE and in China. China is our big brother and I do regard it as our second home. I'm proud of my country to trust China and accepted that we should remain here to be safer, that's truly brotherhood which embraces turbulences and serenity.